Smiley v. Vermont, a workers' compensation appeal from the Supreme Court of Vermont, involved claimant who injured his left ankle during his employment as a state game warden in January of 1996.
In July of 1996, claimant's doctor documented it had been six months since claimant had surgery on his ankle, and claimant was back at work without physical limitations, though he did have trouble walking up stairs. Claimant's doctor also found progress and limitations to be normal given it was only six months following surgery, as it generally takes a full year to recover from this type of ankle injury.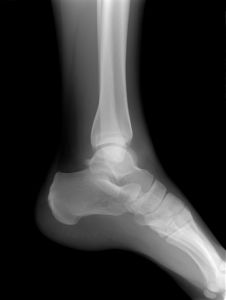 Doctor also noted claimant was offered psychical therapy, but declined. Doctor further expressed his opinion that claimant reached an end of his medical improvement around that time and any disability was likely to be permanent.
During this same time, the state department of labor had created a new rule that required employers or employers' insurance companies to take necessary steps to determine if an employee has permanent impairment as a result a work-related injury or illness at the time claimant reaches maximum medical improvement (MMI).

As our Boston workers' compensation attorneys can explain, maximum medical improvement means doctors have done everything feasible to improve claimant's condition, and doing anything else is not justified by a cost to benefit analysis.
Before this new rule went into effect, the claimant could have a qualified physician make a determination as to claimant's disability rating, or claimant could request his or her employer arrange to have a disability rating determined. After the law, there was an affirmative duty on behalf of employer to take such action upon claimant reaching MMI.
At this point, claimant did not take any further action with respect to determining his disability rating until 2010. In 2010, claimant asked his employer to arrange to have a rating established, and employer's evaluator determined claimant to have a rating of one percent. Claimant then had his own doctor establish a disability rating, and that doctor also found a one percent disability rating.
Employer then denied claimant's request for a permanent disability on grounds the six-year statute of limitations had expired. Despite an expiration of the statute of limitations, employer agreed to pay claimant one percent of total disability benefits under the workers' compensation system on the condition he agreed not to appeal anything in connection with this matter.
Claimant then filed a workers' compensation appeal arguing employer had waived the applicable statute of limitations when they arranged to determine claimant's total disability rating. The court granted employer's motion for summary judgment, finding employer had not waived the applicable statute of limitations.
Claimant appealed this decision, and, on appeal, the state supreme court determined lower court was correct in holding claimant had not waived the statute of limitations by performing an evaluation as to claimant's disability rating.
Supreme court's reasoning for this opinion was claimant's request for a determination of his workers' compensation disability rating did not toll the applicable statute of limitations for the amount of time it took perform such an evaluation.

If you are injured on the job in Boston, call Jeffrey Glassman Injury Lawyers for a free and confidential consultation to discuss your workers' compensation claim: (617) 777-7777.
Additional Resources:

Smiley v. Vermont, March 6, 2015, Vermont Supreme Court
More Blog Entries:
Ohio Settles Lawsuit over Workers' Compensation Premiums, August 2, 2014, Boston Workers' Compensation Lawyers Blog