For many young workers, work in food service is the best available job. There is almost always demand for food service workers, either in fast food environments, casual or formal restaurants and these types of environments are often more receptive to hiring people who are younger and who have limited job training and experience. Younger workers can also do well in the restaurant industry if they are able to find a position where tips are paid.
Unfortunately, while the restaurant industry provides jobs for many youth, the industry also presents some significant risks to these young workers. Our Boston work injury attorneys will be taking a look at some of these top risks in a two part series on young restaurant workers.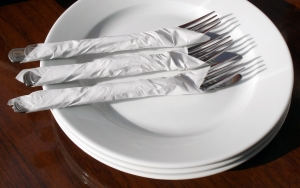 The Top Risks to Young Workers
The Occupational Safety and Health Administration (OSHA) has identified some of the top dangers that young workers face when performing various essential tasks involved in restaurant worker. OSHA tackled serving; cleaning up; drive-thru work; food prep; cooking and delivery as well as other dangers involved in food service.
For workers who are serving food, for example, the biggest dangers include:
Sprains: Sprains can occur due to balancing too many plates or glasses; balancing heavy trays; lifting heavy containers of dirty dishes; reaching across to serve or clear tables; and moving tables or chairs to provide customer seating. They can be avoided by using proper posture when serving; limiting the items carried; moving glasses and plates towards you rather than reaching; and keeping your elbows close to the body when carrying
Slips, trips and falls: Slip and falls can occur due to slippery floors; busy and congested areas; uneven floor surfaces; blind corners and stairs; and single entry doors to the kitchen. They can be avoided by wiping spills and ice from the floor immediately and wearing non-slip shoes.
Burn injuries and scalding injuries: Burns can occur when operating machines that prepare hot drinks or when serving or preparing hot drinks or foods. Servers should be properly trained and should use caution when dealing with hot items to avoid burns.
Workplace violence: Workplace violence commonly occurs when restaurants are robbed, especially as thieves often know that cash registers contain lots of cash. The risks of workplace violence can be avoided by keeping the cash register locked and in site of other customers; by avoiding counting cash in public; and by properly training employees on how to deal with robbery.
Cuts from knives and sharp objects: To avoid cuts, workers should not use glasses to scoop ice; should pay careful attention when using knives and should be trained in their safe use; and should avoid picking up broken glass with their hands.
Workers who are cleaning up face many of the same dangers that workers who are serving do, including strains; slips and falls; burns and cuts. However, they also face other risks including potential exposure to electrical hazards and hazardous chemicals. Proper training, proper equipment maintenance and safe workplace practices can minimize the risk to those young workers who are on the cleaning crew.
Keeping Young Workers Safe
These are just a few of the major hazards that affect young workers in restaurant environments. Our Boston injury attorneys will also be addressing other risks to young workers in Part II of our series on restaurant dangers.

If you or a loved one has been injured in a work accident in the Greater Boston area, contact Jeffrey Glassman Injury Lawyers for a free consultation. Call (617) 777-7777.