Workers can be found all over the city, helping to make some of the much-needed repairs to many of our structures. Many of these workers are completing jobs atop some of the tallest buildings in the city and are also at some of the highest risks for work accidents in Boston while working at height in the construction industry.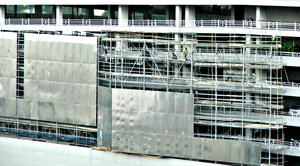 Just in time for the summer, officials with the Occupational Safety and Health Administration (OSHA) are making a renewed push to help to reduce the risks of fall injuries. This effort is through the Administration's Plan. Provide. Train. website.
Unfortunately, falls continue to be the number one cause of death among those in the construction industry. There were more than 260 workers in the construction industry killed in fall accidents in 2010. More of these were falls to a lower level. This is out of the less than 800 fatal fall accidents among all U.S. workers. Many of these accidents, injuries and fatalities could have been prevented if employers were to provide workers with better, safer and more effective fall protection systems.
So what is Plan. Provide. Train. all about?
-PLAN: When workers are required to work from heights, such as roofs, scaffolds and ladders, employers are required to plan projects in way so that they can be completed in a safe manner. First they must decide how it's going to be done, what needs to be done and what kind of safety equipment is necessary to do it. When employers are calculating the costs of a job, they should also include the costs of this safety equipment as well. Personal fall arrest systems (PFAS) are some of the most effective measures in the construction industry.
-PROVIDE: Employees who are required to work at least six feet above a lower level are at serious risks for injury or even death if they happen to fall. To help to keep these employees safe, employers are required to provide them with the proper fall protection and the proper equipment for the job, including the right kind of scaffolds, ladders and safety gear. There are different sizes of each of these that can be used to different jobs. Harnesses, anchors and other PFASs need to be provided for each and every worker who performs duties 6 feet above the ground of higher. This equipment should be inspected regularly.
-TRAIN: Fall accidents can be prevented when employees understand which equipment to use for specific jobs and how to use this equipment properly. All workers should be provided with the proper training on not only the job they'll be completing, but on the equipment that is used to get it done and on the safety equipment they'll be using to help to reduce the risks of accidents. OSHA has provided informational materials and resources for employers regarding training tools.

The workers' compensation attorneys at Jeffrey Glassman Injury Lawyers represent victims of work accident in Boston or in any of the nearby areas. Call today to schedule a free and confidential appointment to discuss your case. Call (617) 777-7777.
More Blog Entries:
Sleep: Important in Preventing Work Accidents in Boston, Massachusetts Workers Compensation Lawyers Blog, July 17, 2012
Work Accidents in Boston and Elsewhere Targeted with New Grants, Massachusetts Workers Compensation Lawyers Blog, June 16, 2012