Shawnlee Construction LLC has been cited by the Occupational Safety and Health Administration (OSHA) for neglecting to do its part to help to reduce the risks of work accidents in New England. The company, based out of Plainville, Massachusetts, is now facing roughly $50,000 in proposed fines. The fines come as a result of an OSHA inspection that determined employees faced fall risks of more than 11 feet. These fall risks could cost an employee their life if not fixed immediately and correctly.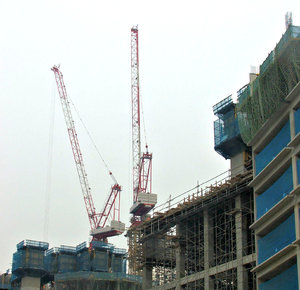 "The sizable fine proposed in this case reflects this employer's history of fall protection violations, having been cited for similar hazards in three different states over the past five years," said Paul Mangiafico, and area director for OSHA.
Our Boston workers' compensation lawyers understand that fall accidents continue to be the number one cause of fatal work accidents for employees who work in the construction industry. In this most recent inspection from OSHA, workers were observed being just a small step away from what could be a life-changing and debilitating or fatal accident. These kinds of work-related accidents end the careers of hundreds of workers every year. To help keep these workers safe on construction sites in New England and elsewhere, it's important that they're provided with the proper fall protection and safeguards. These measures can mean the difference between life and death.
After Swanlee Construction LLC was inspected by OSHA, they received one repeat violation. This was the violation for failing to provide workers with fall protection. It was a repeat violation because the company had already been cited with this violation at least once in the last 5 years.
Workplace injuries and illnesses in Massachusetts in 2007, according to the Massachusetts Occupational Injuries and Illnesses Report:
-The most work-related injuries and illnesses were experienced by workers between the ages of 35- and 44-years-old.
-The health and education industry represented about 30 percent of all work-related injuries and illnesses.
-The most common work-related injuries resulted from overexertion (30 percent), contact with equipment/objects (25 percent) and falls (nearly 20 percent).
-The most commonly experienced work-related injury is a sprain or a strain.
-The construction industry had the highest rate for work-related accidents, at more than 6 per 100 workers.
-More than 40 percent of work-related injuries and illnesses required employees to take time away from work to recover.
-Most commonly, work-related injuries happen to the trust, or an employee's shoulders or back.
According to a recent study conducted by the Massachusetts Department of Public Health:
-More than 70 percent of Hispanic workers who had been involved in a work-related accident had never heard of OSHA.
-Nearly 50 percent of White workers were unaware of workers compensation benefits.

Jeffrey Glassman Injury Lawyers LLC is a group of experienced and knowledgeable workers' compensation lawyers who are dedicated to fighting for the rights of workers who have been injured on the job in Quincy, Boston and elsewhere throughout the state. Call (617) 777-7777 to schedule a free consultation.
More Blog Entries:
Work Accidents in Massachusetts and Elsewhere a Top Concern for OSHA and ASSE, Massachusetts Workers Compensation Lawyers Blog, April 6, 2012
Fatal New England Work Accident Lands Company with Nearly $200,000 in Fines, Massachusetts Workers Compensation Lawyers Blog, March 27, 2012