Working on a construction site is among the most dangerous jobs in the United States.  Each year, construction workers are killed when they are hit by cars on roadside construction projects. We also see workers hit by falling objects, fall off high buildings under construction, and get run over by heavy equipment such as cranes and fork lifts. While it would seem unlikely for a person to get killed by a forklift, as they are required to follow various safety guidelines at construction sites, we are actually hearing about accidents such as these all the time in news articles from around the nation.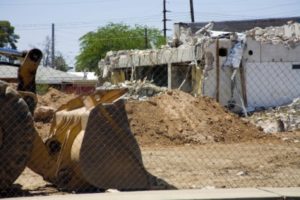 According to a recent news feature from WCVB News 5 Boston, a worker in Phillipston, Massachusetts was killed when a bulldozer operator backed over him while at a job site.  Authorities say the job involved construction of a park owned by the town.  While the 60-year-old was working at the job site, his was hit and crushed by the large bulldozer while it was in reverse.  First responders were called to scene, but here nothing they could do for him.  In many cases, they will attempt to stabilize a patient for transport to a local level one trauma center, but in this case, they worker was crushed and there was nothing left to do but pronounce him dead on the scene and wait for a medical examiner to arrive.
Prosecutors from the Worcester County District Attorney's Office were notified of the worker's death, as is required in the event of any jobsite death, but they do not believe this was anything other than a fatal workplace accident in Worcester.
If this was not an on-the-job accident, it might be necessary for a plaintiff to prove negligence in order to recover from a defendant in a civil personal injury lawsuit.  However, in a workplace injury that results in serious injury or even death, the appropriate remedy is generally to file a workers' compensation action.  Pursuant to the workers' compensation system in the Commonwealth, it is not necessary to prove any liability on behalf of the employer.  The reason for that is because workers' compensation was designed as no-fault system.  Under the no-fault system, it is only necessary to establish that an employee was injured or killed on the job.  As for the first question of whether or not the injured worker was an employee, that is normally not an issue, but in some cases, an employer will try to claim a worker was an independent contractor as opposed to a statutory employee.
Another important point to keep in mind is that if work-related accident was caused by a third party that does not work for the same employer, such as another contractor or vendor, it may be possible to file a civil personal injury lawsuit in addition to a workers' compensation action.  This is one of the few exceptions to the fact that workers' compensation is an exclusive remedy system.  The the other possible exception is if it can be established that the employer engaged in conduct that showed an extreme disregard for his or her employees.
If you or someone you love has been injured a Boston work accident, call for a free and confidential appointment at (617) 777-7777.
Additional Resources:
Worker hit, killed by bulldozer, May 5, 2016, WCVB Boston, By News Desk
More Blog Entries:
Scope of Employment in Workers' Compensation Cases, March 29, 2016, Boston Workers' Compensation Lawyer Blog