The U.S. Department of Labor's Occupational Safety and Health Administration (OSHA) recently announced that it's made changes to and strengthened the Whistleblower Protection Program.
OSHA will soon be releasing the internal report that was conducted to review the entire program. This program helps protect employees that voice their concerns about work safety issues to help prevent work accidents in Boston and elsewhere throughout the United States.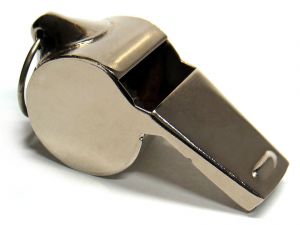 The protection program currently consists of more than 20 statutes that are used to protect employees who step up and speak out regarding workplace safety issues. The issues include commercial motor carrier, airline, consumer product, nuclear, environmental, securities, financial reform, pipeline, food safety, railroad, health care, public transportation and maritime laws. Employees of all types are protected under these revised regulations.
Our Massachusetts workers' compensation attorneys understand how beneficial this program is. Oftentimes, workers can face the wrath of an angry employer after reporting them to authorities for potential work hazards. This program helps to protect employees from any form of retaliation from their employer. Retaliation can include being fired, being harassed at your job or being treated differently. Employers are not allowed to fight back after being turned in for presenting work hazards to employees. This protection plan is aimed at encouraging employees to report hazardous findings to help prevent work injuries.
"The ability of workers to speak out and exercise their legal rights without fear of retaliation is crucial to many of the legal protections and safeguards that all Americans value," said Dr. David Michaels, OSHA's Assistant Secretary.
The whistleblower program was audited both in 2009 and 2010 by the Government Accountability Office (GOA). Through these audits, the Office determined changes that could be made to better the program. Some of the changes that have been recommended were related to operational procedures, equipment, national and regional program structures, training for both investigators and managers, internal communications, budget, the investigative processes and various personnel issues.
Dr. Michaels says that OSHA will be striving to correct the issues brought forth in the audit from the GOA and from the internal audit.

Some of the major changes that can be found in the new set of rules and regulations include:
-Restructuring: The program will now report straight to the assistant secretary rather than to the Directorate of Enforcement. A pilot project is currently being tested to find more efficient ways to track efforts and hold accountable all of its accomplishments and various activities. The office will hire 25 additional investigators as well.
-Training: A national conference will be held in September for whistleblower investigators and require that all agents complete mandatory training courses.
-Program Policy: OSHA will be releasing the new edition of its Whistleblower Investigations Manual to inform employers and employees of the new updates, laws and procedures. This is the first revision since 2003.
-Internal Systems: The Administration will be looking into how to strengthen and expand their offices to help to ensure that complains are handled in a timely fashion.

If you have been injured at work in the Boston area, contact Massachusetts Workers' Compensation Attorney Jeffrey S. Glassman for a free and confidential appointment to discuss your rights. Call (617) 777-7777.
More Blog Entries:

Construction Workers Face High-Risk of Potentially Fatal Work Accidents in Massachusetts This Summer, Massachusetts Workers Compensation Lawyers Blog, August 12, 2011
Fatal New England Work Accident Results in 18 Serious Violations, Massachusetts Workers Compensation Lawyers Blog, August 2, 2011