According to a recent news release from the United States Occupational Safety and Health Administration (OSHA), workers performing renovations at a now-closed dye works plant in Easthampton, Massachusetts were exposed to potentially deadly fall accidents due to employer's failure to provide necessary protection.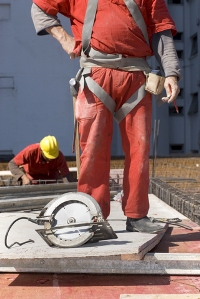 OSHA reports falls are the No. 1 cause of worker deaths on construction projects, and many workers are only seconds away from a potentially deadly or disabling fall, which could easily end their careers. This not only is devastating to the injured worker, but also to his or her family, who will be left without their injured family member's future income and may also bear the cost of a lifetime of future medical expenses.
OSHA fined these contractors over $110,000 for failing to provide adequate safety equipment. Regulators found workers on rooftops with no safety harnesses or other fall prevention devices, unguarded holes in the floor of job sites, and employees did not properly receive training to deal with these safety issues.

OSHA was concerned not only about potential hazards to employees in terms of on-the-job injuries, but also because their employers were aware of the dangers to the workers and had taken no action to prevent injuries from occurring. This is the reason for such high fines.
Our Boston workers' compensation attorneys have seen many cases involving injuries to workers who had been hurt due to fall accidents. We also know that some of these falls can end up with a worker being killed on the job. According to the United States Bureau of Labor Statistics (BLS), seven workers died in fall-related work accidents in 2012 in Massachusetts alone, with many more fall-related deaths occurring nationwide.
If you or a family member has been hurt on the job in Massachusetts from a fall, it is important you report the incident to your supervisor immediately. You should make sure an incident report is generated and seek prompt medical attention. While many employers truly care about the health and safety of their employees, unfortunately, some employers do not. These employers may try to dissuade an injured worker from filing a report. One of the reasons they might do this is to keep the cost of their workers' compensation down. Just like any other insurance policy, the more claims being made, the higher the premium will be. In additional to that, some employers do not want employees making reports of industrial accidents, because these reports have to be turned over the Massachusetts Department of Industrial Accidents (DIA) and OSHA and can result in fines to the employer if safety violations are found.
The best thing you can do is to contact a Boston workers' compensation attorney who will be on your side during the process and fight for your rights to a full and appropriate compensation. If an employer refuses to cooperate in your receiving workers' compensation or refuses to create an accident report, there are steps your attorney can take to assist, but there are time limits that must be followed, so you should not wait to act.
If you or someone you love has been injured a Boston work accident, call for a free and confidential appointment at (617) 777-7777.
Additional Resources:
4 contractors expose workers to potentially fatal falls at Easthampton, Massachusetts, renovation project Employers face more than $110K in fines for failing to provide protections , Jan. 12, 2015, OSHA News Release
More Blog Entries:
City of Danville v. Tate: Workers' Compensation Double Recovery, Jan. 25, 2015, Boston Workers' Compensation Lawyer Blog