Federal officials are looking into the death of a man who was caught in machinery while working the night shift at a New Bedford seafood processing plant. According to the Boston Globe, the 25-year-old worker was cleaning a shellfish-shucking machine just before 2:00 a.m. at Sea Watch international when he "became entangled in a rotary turbine engine.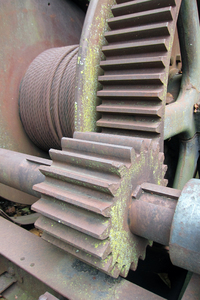 It tough roughly an hour to get the man out of the machine, after dismantling much of it. He was pronounced dead. He had been with the company for close to 20 years.
Our New Bedford workplace injury attorneys understand that the investigation into this accident could take several weeks. Officials with the Occupational Safety and Health Administration (OSHA) will be looking into the happenings to determine if it was a mere accident or if the company was negligent at protecting its employees. Officials will have to carefully comb through safety standards regarding this type of machinery to determine if the company was at fault.

Back in 2011, officials with OSHA inspected the plant and found a number of safety violations, including insufficient respiratory protection for employees and inadequate training. The company wound up paying close to $5,000 in fines. A follow-up investigation in April of 2012 found that the company was up-to-date and following all federal safety standards.
Since 2000, there have been more than 20 workers who have been crushed to death by machinery in the state of Massachusetts. Most of these incidents have occurred because companies failed to provide the proper machine guards and neglected to follow other federally-mandated safety measures.
Machine safety is critical for worker safety, because machines have many ways to injure workers. According to the Centers for Disease Control and Prevention (CDC), machines are likely to cause severe work injuries including burns, amputations, crushed fingers or hands and death.
Aside from death, amputations are among the most severe and disabling workplace injuries. They are widespread and involve various activities and equipment. About one-half of all workplace amputations occur in the manufacturing sector and the rest occur across the construction, agriculture, wholesale and retail trade and service industries. These injuries result from using stationary machines such as saws, presses, conveyors, and bending, rolling or shaping machines as well as from powered and non-powered hand tools, forklifts, doors, trash compactors, and during materials handling activities.
General Safety Tips:
-Do not wear loose clothing, loose neckwear or exposed jewelry while operating machinery.
-Safety glasses with side shields must be worn at all times.
-Do not work alone in the Student shop. (Implement the "buddy" system if possible).
-Do not wear thin fabric shoes, sandals, open-toed shoes, and high-heeled shoes.
-Pull back and secure long hair. (Use hair net or ball cap)
-A machinist's apron tied in a quick release manner should be worn.
-Use hand tools for their designed purposes only.
-Always keep hands and other body parts a safe distance away from moving machine parts, work pieces, and cutters.
-Report defective machinery, equipment or hand tools to supervisor.
Call Jeffrey Glassman Injury Lawyers for a free consultation to discuss your workers' compensation claim– (617) 777-7777.
More Blog Entries:
Addressing Nail Gun Safety to Protect Boston Workers, January 22, 2014.
#1 Cause of Workplace Fatalities: Distracted Driving, January 18, 2014.