While there are federal safety standards for workers, each state has its own set of enforceable regulations to ensure worker safety. A 2012 campaign initiated in Massachusetts to prevent worker falls is now being recognized and implemented nationwide. Last month, the campaign won a national award from the U.S. Occupational Safety and Health Administration (OSHA).
The campaign, spearheaded by the Massachusetts' Department of Labor Standards, was aimed at preventing falls, the leading cause of death among construction workers. According to the Massachusetts Department of Public Health, construction site falls claimed more than lives in 2007-2011 than any other type of work-related accident. Our Boston workers' compensation attorneys are experienced in helping the victims and families of construction site accidents recover compensation after an accident or injury.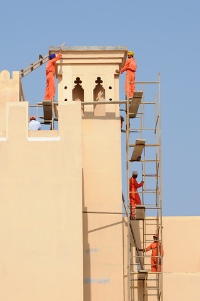 Construction sites are notoriously dangerous for workers. Unstable premises, dangerous machinery, improper equipment, as well as poor training of sub-contractors can increase the potential for risk. OSHA is the federal regulatory agency for workplace safety and Massachusetts has its own standards to help prevent falls, injury, and fatalities. According to reports, most of the workers who died in a fall were employed on construction sites. The Massachusetts campaign was designed to provide small contractors with appropriate training and educational resources necessary to implement safety on the worksite.
In addition to creating a safer environment for workers, the campaign also aimed to raise public awareness about the dangers of construction sites. The Massachusetts initiative is dedicated to saving lives of workers and preventing the number of falls in the state and now, nationwide.
Every year, OSHA awards state programs for state initiatives that have made achievements in promoting worker safety. In April 2013, Massachusetts Department of Labor won this award, known as an OSCAR, the On-Site Construction Achievement Recognition. The Fall 2012 program was a partnership effort with the Andover Federal OSHA office. The agencies distributed over 5,000 flyers to contractors, including roofers, trade associations, building inspectors, and other construction companies throughout the state.
In addition to distributing the information, the agencies hired outside consultants and compliance officers to visit work sites, conduct seminars, and provide necessary information to nearly 350 construction companies and workers. At the seminars, employees and employers were given demonstrations on using protective gear and in employing safety techniques to prevent falls based on OSHA requirements.
The program was relaunched Spring 2013 and expanded its outreach. Program administrators see this season as a new opportunity to warn construction companies, contractors, and employees about the dangers off falls as they enter the busy summertime construction season. As part of the expansion, the campaign initiative will broaden with additional materials for contractors on ladder safety, personal fall arrest systems, scaffolding safety and additional educational information in various languages.
The Department of Public Safety is collaborating with the Department of Public Health on the dissemination of additional information to Massachusetts contractors, inspectors, and construction worker vocational schools. These efforts throughout the state may improve worker safety and prevent injuries and fatalities throughout Massachusetts. The extended campaign to prevent construction site falls is slated to run from April through June.

If you are injured on the job in Massachusetts, call Jeffrey Glassman Injury Lawyers for a free and confidential consultation to discuss your workers' compensation claim– (617) 777-7777.
More Blog Entries:
Minorities at Greatest Risk of Workplace Injury in New England, Massachusetts Workers Compensation Blog, May 27, 2013
Boston Workplace Dangers Highlighted, Massachusetts Workers Compensation Lawyer Blog, May 13, 2013