As recent tornadoes in Oklahoma have shown, tornadoes can come in an instant and can create massive damage and destruction. In fact, CBS News reports that a tornado that hit El Reno, OK earlier this summer had winds that reached 295 miles per hour. The high winds and fierce storms can be deadly, with 24 people dying in a Tornado in Moore, OK recently and another 18 people losing their lives in the El Reno tornado.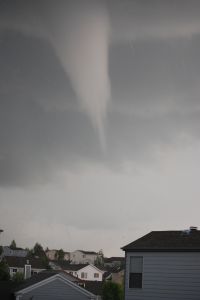 Our Boston workplace injury lawyers know that work sites should have a tornado plan in place in case a tornado comes through while employees are at work. OSHA has recently touched upon this issue, providing a publication on tornado preparedness and responses in the workplace.
OSHA Advises Taking Precautions
Because tornadoes can move so quickly and there may be limited warning before you find yourself in a tornado zone, there are a few key precautions that should be taken by employers and employees in order to prevent injury or even death when a storm blows in.
For example, OSHA advises that:
Businesses should have an emergency plan with details on where employees will go to shelter and how employees will be accounted for.
Businesses should create a suitable plan for addressing any hazardous materials that may be on site or that may have been onsite prior to the tornado.
Employers should know the warning system in the community so that they can react quickly and help workers get to safety. If a business has a "safe room," or an underground shelter, workers can go there to wait out the storm.
Workplaces should consider having preparedness kits at worksites.
Periodic tornado drills may be a smart option for employers so that everyone knows what to do in the event that a tornado comes.
Employers can prepare for tornado season by removing damaged tree limbs that could blow down on buildings during a tornado or other severe storm.
Fallen power lines and broken gas lines may occur after a tornado and employees should be warned about potential electrocution or explosion risks.
By taking these steps and by going the extra mile to become prepared for a tornado that might strike while at work, employers can make an important difference in potentially saving lives or preventing serious injury.
As OSHA points out, employers are responsible for both the safety and the health of their employees. While employers cannot stop tornadoes from happening, they can ensure that they do everything possible to protect workers and keep them safe.
If a worker is injured on the job, he may be eligible for workers' compensation benefits from employers. A worker could potentially be entitled to these benefits even if the on-the-job injury was caused by a tornado or other natural disaster. Workers should consult with an experienced workers' compensation lawyer to learn whether their injuries are covered.

If you are injured on the job in Massachusetts, call Jeffrey Glassman Injury Lawyers for a free and confidential consultation to discuss your workers' compensation claim– (617) 777-7777.
More Blog Entries:
OSHA Announces Guidelines for Removal from Voluntary Protection Program, Massachusetts Workers' Compensation Lawyers Blog, June 18, 2013.