Hildebrant v. State ex rel., Dep't of Workforce Servs., a case from the Supreme Court of Wyoming, involved claimant who was injured while working as a heating, ventilation, and air conditioning (HVAC) technician.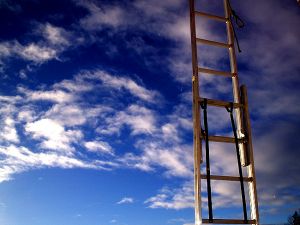 In August 2011, claimant was employed as an HVAC technician at college located in central Wyoming. He was working on a ladder when he fell approximately 20 feet to the ground and was unable to move. Claimant was able to use his radio to call for help, and an ambulance was called to the scene to offer immediate medical attention to claimant.
While in the emergency room, claimant complained of pain in his back, shoulder and leg. After doctors performed an initial evaluation, they decided to transfer claimant to a larger state hospital with better equipment, so a proper diagnosis could be completed.

About six weeks later, at the larger hospital, a treating physician determined 48-year-old claimant had injuries related to his 20-foot fall. Specifically, claimant was diagnosed with lingering neck pain, right shoulder pain, mid-back pain, and injury his right leg, which would occasionally give out, causing extreme difficulty to claimant.
Claimant's doctor ordered an MRI of his right shoulder, which showed damage consistent with tendon damage, tendonitis, and a small tear. Doctor also noted a bone bruise in the superolateral portion of the humeral head. Regarding claimant's cervical, thoracic, and lumber spine, MRI revealed compression of the C5-6 disc, C6-7 disc, and a small fracture in the T7-8 disc. Doctor determined this condition to be degenerative and chronic but did not believe any additional surgery to correct the problems was warranted at that time.
At this point, claimant applied for workers' compensation benefits in connection with injuries he sustained during his work-related fall. The workers' compensation division determined he had compensable injury with respect to his lower back mid back, and shoulder. He continued to receive treatment, much of which consisted of pain management techniques, which included substantial doses of narcotic painkillers.
Eventually, doctors determined giving claimant narcotic medication on a long-term basis to manage pain was not a long-term solution and looked at alternatives to help improve claimant's prognosis. The next course of treatment involved steroid injections, and this did not work as hoped, and claimant had no significant reduction in his level of pain.
At this point, doctors recommended a spinal cord stimulator trial. When claimant submitted this request to pay for a spinal stimulator, his request was denied. They did not believe his leg and back pain was related to his fall injury and would not be beneficial to his shoulder injury, which was work-related. Claimant appealed this decision and requested a full hearing.
During his hearing, it was determined that, while his back injuries may have been work-related, it would be premature to do a spinal stimulation without exhausting all courses of treatment on his shoulder injury. Claimant appealed denial of request for workers' compensation pre-approval.
On appeal, the court looked at issues of whether his back injury was work-related and whether this treatment was medically necessary. The appellate court ultimately agreed, while claimant's back and neck injuries were related to his on-the-job injury, this trial treatment was not medically necessary and affirmed hearing board's ruling.
One of the most important things claimants can do to help get the highest level of workers' compensation benefits possible is speak with an experienced Boston workers' compensation attorney as early in the process as possible.

If you are injured on the job in Massachusetts, call Jeffrey Glassman Injury Lawyers for a free and confidential consultation to discuss your workers' compensation claim: (617) 777-7777.
Additional Resources:
Hildebrant v. State ex rel., Dep't of Workforce Servs , March 24, 2015, Wyoming Supreme Court More Blog Entries:
Frith v. WSI – Proving Worsening Condition Is Related to Work Injury, May 27, 2014, Boston Workers' Compensation Lawyers Blog