Construction projects both large and small are often the site for serious and potentially deadly workplace accidents in the Greater Boston area.  Some of these accidents are the fault of employers (typically a general contractor or a subcontractor), while others are due to the possible negligent actions of the employee. Finally, some accidents are accidents in the colloquial sense of the word and are not really anyone's fault. The good news for the injured worker and his or her family is that fault is not generally relevant in Boston workers' compensation cases. This is due mainly to how and why workers' compensation law was drafted in Massachusetts.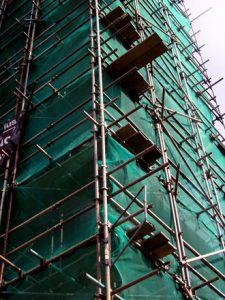 Interestingly, it was employers who first pushed for what we know today as the Massachusetts workers' compensation system. While the name implies it was designed to compensate workers, it was the employers who wanted to limit their exposure to personal injury lawsuits from employees who claimed they were injured on the job or suffered a work-related illness. This is because they are additional damages (financial compensation) available in a personal injury lawsuit that are not available in a workers' compensation case. 
Differences Between a Boston Workers' Compensation Claim and a Personal Injury Lawsuit
As our Boston workers' compensation attorneys can explain, damages for pain and suffering are not applicable in most workplace injury cases. This is what the employers wanted when they lobbied for the creation of the Massachusetts Workers' Compensation Act now codified in Chapter 152 of the Massachusetts General Laws (M.G.L).
This is essential because pain and suffering damages often make up the majority of the settlement proceeds or the jury verdict in a personal injury lawsuit.  Even though this also seems like a benefit to only the employers, the workers' compensation system is considered a compromise between the interests of employers and employees because there is no need to prove any fault on the part of the employer in order for the injured employee to be compensated as there would be if the attorney had filed a personal injury lawsuit.
This also means that the employee should be able to receive compensation in a much more streamlined-process than a drawn-out civil lawsuit, which is what a personal injury lawsuit is. In the context of construction accidents, this is important because the injuries are often more severe than in other occupations.  One reason for this is because a lot of construction accidents involve workers falling from great heights or being injured by heavy construction equipment.
A Recent Construction Accident in the Greater Boston Area
According to a recent news article from NECN, one worker was injured while working on the Wynn Boston Harbor Casino project.  This is a very large hotel and casino being constructed in Everette Massachusetts that is estimated to cost nearly $2.5 billion and is regularly employing over 1,000 construction workers at any given time. This project is so massive that it holds the title for the largest private construction project in state history being completed in a single phase.
Authorities have said the worker was at the top of an elevator shaft being constructed on the property when he fell into it and landed on the lowest level. Somewhat miraculously, he was still conscious when first responders arrived on the scene of the Boston area construction accident.  He was treated on the scene of the hotel and casino project and then rushed to Massachusetts General Hospital (MGH) in downtown Boston.  While his injuries are known to be severe, his exact condition has not been released as of the time of this article.
Boston Construction Accident Statistics
To understand just how common fall accidents are on construction projects in the Greater Boston area and across the nation, we can turn to data collected by the Center for Construction Research and Training. According to their Construction Chart Book, we learn that falls are the main cause of deaths in the construction industry and in one year alone, there are nearly 300 deaths due to this cause.
We also see that there are higher rates of fall accidents associated with some construction occupations than others. For example, it should come as no surprise that fall accidents are the most common in iron workers as compared to many other construction trades.  We also learn that the average time spent away from work following non-fatal construction falls is also for iron workers as they typically work on narrow iron beams on the highest level of unfinished buildings.
Challenges in Boston Construction Accidents in Obtaining Workers' Compensation
One of the common issues we face when challenging a denial of workers' compensation benefits by an employer or his or her workers' compensation insurance company claims adjuster involves the all too common problem of employee misclassification.  The two requirements that must be satisfied to qualify for workers' compensation are that the worker was injured while at work, as opposed to an off-the job accident, and that the worker is an employee within the meaning of the Massachusetts Workers' Compensation Act as defined in M.G.L. Chapter 152, Section 1.
It is often the second part of this test where the problems come into play. If a worker works for his employer and performs services under the supervision of that employer and is generally paid by the hour or given a fixed salary, this is an employee. Even if the employer is an independent contractor, it does not mean that is or her employees fit this description as well.  The relevance here is that an employee is compensated by workers' compensation and a contractor is not.  A contractor may purchase private long-term disability insurance, which is generally a good idea, but this is a choice and not a legal requirement. It is however, illegal not to obtain a workers' compensation insurance policy for employees, and failure to do so can, and often does result in substantial fines in the event of an on-the-job injury.
The worker is not necessarily affected by this, however, because there is a state workers' compensation fund that will often compensate injured workers in cases where their employers failed to maintain a workers' compensation insurance policy as required by the law.
If you or someone you love has been injured a Boston work accident, call for a free and confidential appointment at (617) 777-7777.

Additional Resources:
Construction Worker Injured in Fall Down Elevator Shaft at Wynn Boston Harbor, January 2, 2018, By Melissa Buja, NECN
More Blog Entries:
Report: Three Workers Burned in Natural Gas Explosion, Feb. 18, 2017, Boston Workers' Compensation Lawyer Blog