What does it mean to be an "employee" for the purposes of obtaining workers' compensation?
A recent case from the Nebraska Supreme Court deals with the issue of defining what it means to be an employee for the purposes of obtaining workers' compensation.  In that case, putative employer was the owner and sole proprietor of a company.  He normally works alone, according to court records, and performs carpentry services.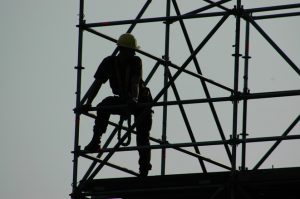 His carpentry work is normally done in the capacity of a subcontractor, meaning a general contractor hires him to do work on a building project.  His son is also a sole proprietor of his own company and does work on roofing and guttering on construction projects.The son was working for his father as an estimator on a job that involved a home damaged in a hailstorm.  He was paying his son to do this work. The plan was for the son to start doing his own jobs eventually, but, in the meantime, his father would still hire him to do roofing and guttering as well as estimating work.
Another homeowner saw the son doing roofing work and asked him if he could do his roof, as well.  The son handed this prospective customer his own card for his company and logo from his father's company.  The form with the logo, from his father's company said "Our workers are fully covered Workman's Compensation Insurance."  Testimony reflects that the son never told prospective customer he did not work for the company listed on that form.
The son was hired and he, in turn, hired a friend to help with the job.  His friend fell off the roof and was seriously injured. He filed a workers' compensation claim with father's company, and the claim was denied, as he was not an employee of that company.  He filed this case, and the court determined he was not an employee.  Claimant appealed, and this lower court's decision was affirmed.
As our Boston workers' compensation attorney can explain, it is not necessary to prove fault in a workers' compensation claim. However, it is necessary to prove that injured worker was an employee of the company and not an independent contractor.  This situation is not usually as confusing as this case.  However, what is more likely to happen is, after an employee is injured on the job, employer will try to claim employee was not a statutory employee, but rather an independent contractor.  While this may be true in some cases, in many cases, the employer is trying to misclassify his or her employee to escape liability for any injuries that occurred.
While this is a common defense, if the elements are not there to create an independent contractor relationship, as is often the case, your experienced workers' compensation attorney can help you with defeating this affirmative defense and getting you the benefits to which you are rightfully entitled.  The most important thing is that you seek a consultation as quick as possible, because time is often of the essence in workers' compensation claims and appeals.  There are often reporting requirements that are strictly adhered to in these cases.
If you or someone you love has been injured a Boston work accident, call for a free and confidential appointment at (617) 777-7777.

Additional Resources:
Kohout v. Bennett Construction, May 5, 2017, Nebraska Supreme Court
More Blog Entries:
Report: Three Workers Burned in Natural Gas Explosion, Feb. 18, 2017, Boston Workers' Compensation Lawyer Blog