Workers' compensation is designed as no-fault system within which it should be fairly easy for an injured worker to obtain benefits for lost wages and medical expenses. In practice, however, things are not always so easy since we are not only dealing with employers, but with workers' compensation insurance companies. Like many insurers, workers' compensation insurers have a habit of minimizing payouts by denying and delaying claims to the fullest extent possible.
This issue was recently weighed by journalists for the Civil Beat Honolulu. Writers describe a workers' compensation system that is in many ways broken.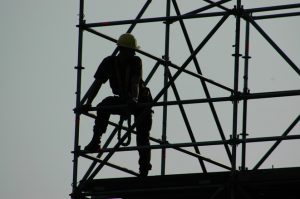 According to the report, an injured worker who has been trapped in a bureaucratic nightmare that is the workers' compensation system there since he was injured on-the-job. He was working on a construction project in which he was required to handle wet concrete. He was on a raised platform with a concrete pouring hose when the weather turned bad. Due to wet conditions, he fell to the ground and severely damaged his knee. He was in incredible pain. This on the job accident occurred 10 years ago, and he's still fighting with the workers' compensation insurer.
After receiving some treatment for his badly injured knee and obtaining some benefits for lost wages, he was told he still needed to have a major surgery to repair the knee. It took six years after the injury for the workers' compensation insurer to agree to cover the cost of the surgery. Then, three days prior to the operation, the insurance company issued a notice that they refused to pay for the procedure until a further investigation was completed.  He was not paid all of the weekly wage checks for which he was entitled and this forced him and his family to move back home with his parents.
He was forced to wait longer for a total knee replacement, but in the meantime, his doctor recommended aquatic therapy  Aquatic therapy allows an injured worker to stretch and workout the injured joint in ways that are not possible without being submerged in water. This is a typical request, but the insurance company denied the request. The company then had two of its doctors examine the worker and concluded not only was the aquatic therapy not warranted, a total knee replacement was not as well.
The battle shouldn't be this uphill in a no-fault system, but this case shows that sadly, it often is.
Obtaining Representation in a Boston Workers' Compensation Case 
As our Boston workers' compensation attorneys can explain, the system is even more difficult to navigate for a claimant who does not have an attorney fighting for their right to a full and appropriate workers' compensation benefits award.
The reality is there is no reason not hire an experienced attorney. First, the consultation with an experienced attorney is always free. If the attorney and the client agree to the representation, there will be no fee unless the claimant is successful in obtaining benefits from the workers' compensation insurance company. Though not technically the same, it is very much like a contingency agreement use in most personal injury cases.
Dealing with Insurance Companies in Boston Workers' Compensation Cases
While this much resistance is not seen in every case, it does give a good example of how far insurance companies are willing to go to deny a seemingly valid claim. What is not surprising is that the doctors hired by the insurance company sided with the insurance company. It occurs more often than not.  These doctors are what we call independent medical professionals, and they are paid by the case to do evaluations. These evaluations include a review of claimant's medical records as well as a brief interview with the claimant him or herself. The way these doctors get the job is by being placed on the workers' compensation insurer's list of accepted physicians. There is no formal requirement to side with the insurance company, as this would easily be called out as unfair dealing, which can have serious legal ramifications. However, there is generally an unwritten rule that if the doctors do not find the claimant not in need of expensive medical and rehabilitative services, they can expected to be dropped from the list or not selected very often if they mange to stay on the list at all.  Essentially, this is all part of cost-saving game for the Boston workers' compensation insurance companies and the doctors generally know their role in the process.
To get an idea of how bad this situation had become for the worker interviewed as part of this story, and why he said he is trapped in workers' compensation Hell, he told a story of when he was feeling really depressed and went to see his therapist. As a result of not having any income, being in constant pain, he said that he could no longer take care of his children and there was no food for them to eat.  He allegedly told his therapist that had contemplated suicide. Again, while this is not the case for everyone, it shows how serious the problem can become and how desperately in need of workers' compensation benefits these injured workers' can become.  For this reason, an injured worker who is having trouble getting a Boston workers' compensation claim approved should contact an experienced workplace injury lawyer as early in the process as possible. This is not saying that everyone who does this will be awarded a full and appropriate award of workers' compensation benefits, but it will certainly increase the odds of asuccessful outcome when the injured worker has someone on their side fighting for their rights to benefits including the payment for necessary medical treatment and rehabilitative services.
If you or someone you love has been injured a Boston work accident, call for a free and confidential appointment at (617) 777-7777.

Additional Resources:
Insurance 'Hell' Leaves Many Injured Workers Broken, December 1, 2017, By John Hill, Civic Beat
More Blog Entries:
Report: Three Workers Burned in Natural Gas Explosion, Feb. 18, 2017, Boston Workers' Compensation Lawyer Blog