Longfellow Bridge, named after Henry Wadsworth Longfellow (author of the famous poem "The Bridge" which once stood in the place of the current bridge) spans the Charles River.  It connects Boston's Beacon Hill neighborhood to Kendall Square in Cambridge. The historic bridge, which is adorned by sculptures of Viking Ships, carries the Route 3 roadway, the MBTA or "T" Redline trains, as well as decks for pedestrians and bicycle traffic.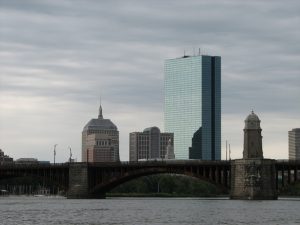 Unfortunately, the bridge has fallen into a state of disrepair over the years and is now undergoing a major renovation product.  According to a recent news article from the Boston Globe, one of the construction workers on the project was just injured on the job.  The accident occurred around 7 a.m.  When Boston Fire Department (BFD) rescue workers arrived on the scene, they were told that the injured employee was lying underneath the bridge on a portion of the span that was still over land.Firefighters said when they were preparing to use a series of ladders to get down to the injured employee, they realized they may be able to get him out from under the bridge using a stokes basket. A stokes basket is similar to the type used in the military and is a combination of a basket and a traditional stretcher used by EMTs.
First responders said the man was conscious the entire time, and they were able to get him secured and transported him to a local hospital for treatment.  The exact extent of his workplace injuries in Boston is unknown at this time, and his identity has yet to be released.
One of the most important things for you to do following an on-the-job accident is to make sure to report it your employer and that your employer generates an injury report.  While it is obvious that you were hurt on the job when your employer has to call an ambulance, your injury may not be so obvious when it is something like back pain or carpal tunnel syndrome (CTS).  If you do not report an injury, two things may happen.  The first is that you may not be eligible for workers' compensation benefits, because you waited too long to tell your employer and file a claim.
The second thing that may happen is even if you have a timely claim, the employer, and its workers' compensation insurance company, will likely challenge your claim by saying that your injury did not occur while you were at work.  They will argue that if your injury were work related, you would have reported it as soon it happened.  They will also argue that you are malingering, which is a term often used in the industry that basically means faking or trying to appear worse than you are, so you can collect benefits and not go to work.  However, in reality, the vast majority of people would much rather be helpful and able to work than at home in pain collecting disability benefits.
If you or someone you love has been injured a Boston work accident, call for a free and confidential appointment at (617) 777-7777.
Additional Resources:
Construction worker injured on Longfellow Bridge, November 2, 2016, By John R. Ellement, Boston Globe
More Blog Entries:
Parr v. Breeden – Supervisor Co-Workers Not Liable Under Workers' Comp Exclusive Remedy, July 3, 2016, Boston Work Accident Lawyer Blog