According to recent news feature from 7 News Boston, a construction worker was on the job in Easton, Massachusetts performing work in a manhole when he was struck by a car and severely injured.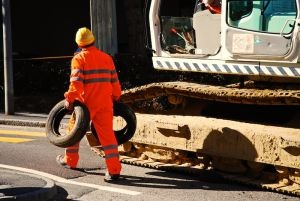 Authorities say the tragic workplace accident occurred around 10:30 a.m. on a roadway in a local condominium complex.  The 45-year-old construction worker was performing repairs and maintenance on the septic system that was only accessible via a manhole cover in the complex's parking lot.
The driver of the vehicle that allegedly hit the worker was a 72-year-old woman who was looking for a parking spot at the time of the workplace accident.  She immediately realized she had hit something, and when she got out of the car and saw that it was a construction worker that was seriously injured, she quickly called 911.
When first responders arrived on the scene where the worker had been injured, they discovered he had suffered severe damage to his chest.  The damage was so severe that paramedics did not think he would likely survive an ambulance ride to a local level-one trauma center, so they called for a medevac helicopter to airlift him to a location suitable for treatment of serious chest injuries.
Meanwhile, the woman who allegedly hit the injured employee said she was traveling at about five to ten miles per hour, and she did not see him in the manhole.  She said she knew she hit something, but did not see anything until she got out of her vehicle to investigate.  No charges have been filed in connection with this serious Boston area workplace accident as of this time, and there has also been no update on the condition of the construction worker who was hit by the woman's car while he was working in a manhole.
In a case similar to this, there may not be any negligence on behalf of a driver.  It would depend on whether a reasonable and prudent person would have seen the man sticking halfway out of manhole and whether they would have time to act as to prevent an accident such as this from occurring. Fortunately, for an injured worker, it is not necessary to prove any negligence on behalf of a third party of the claimant's employer.  The reason for this is because, in Massachusetts, we have a no-fault workers' compensation system. This means that it is only necessary for a claimant to show that he or she is an employee within the meaning of the Workers' Compensation Act, and that they were injured on the job or suffered a job related injury.  However, in a case in which the accident was caused by a third party driver, meaning someone who does not work for your employer, you may be able to file a case in civil court against the alleged at-fault driver and still collect from your employer's workers' compensation insurance company.  However, there may be a requirement to reimburse the workers' compensation carrier for any money paid out as benefits.
If you or someone you love has been injured a Boston work accident, call for a free and confidential appointment at (617) 777-7777.
Additional Resources:
Worker in manhole struck by vehicle in Easton, May 18, 2016, 7 News Boston, By Kelli O'Hara
More Blog Entries:
Opioid Use in Boston Workers' Compensation Cases Posing Serious Health Threat, April 10, 2016, Boston Workers' Compensation Lawyer Blog