Millions of tourists come to Hollywood each year to see where movies are made and see where the stars spend their free time. People generally do not expect to see a car plow through a crowded restaurant while they are enjoying the sights.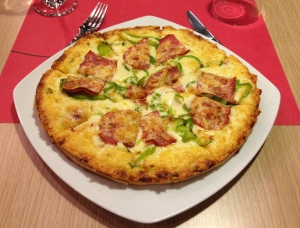 According to a recent news article from Fox News, a worker was injured when a pickup truck and car crashed in way, which sent the pickup flying through the restaurant's front door. Authorities say workers were at the restaurant at around one in the afternoon preparing the business to open later that afternoon when the pickup truck came crashing into the restaurant, causing him to suffer serious, but not life-threatening injuries.
While first responders were primarily there to help injured workers and driver of the pickup truck, who ultimately declined to be taken to a hospital, they became concerned about structural damage to the building and were worried it could collapse causing additional injuries. In total 44 firefighters responded to the scene of this car accident, along with city building inspectors to help contain the damage and prevent a structural collapse.

This business, along with an adjoining pizza place thought to be damaged, is owned at least in part by celebrity chef Mario Batali, who is well known to Food Network fans.
As our Boston workers' compensation attorneys can explain, if a workers are injured on the job in an accident allegedly caused in a negligent manner by a third-party (not employer or other employee), the issue of third-party liability and reimbursement can come into play. In a typical workers' compensation claim, there is no need to show employer was liable in any way for employee to collect benefits. It is only necessary to establish an employe was injured in a work-related accident or illness.
This is a benefit to injured employees, as sometimes an accident is truly an accident for which nobody is negligently responsible. However, it generally does matter if an employer was negligent, because an employee eligible to apply for workers' compensation benefits is generally precluded from a civil negligence lawsuit against employer under state law.
However, if an accident was due to negligence acts or omissions of third party, injured employee may be able to collect workers' compensation benefits and still file a civil lawsuit. This allows an injured worker to recover not only medical bills and lost wages under workers' compensation but also recover for his or her pain and suffering in a civil lawsuit. The catch is injured workers must reimburse employer for any benefits paid, so he or she will not have double recovery after a work-related accident.
These issues can become complicated and one of the best things you can do is speak with an experienced workers' compensation attorney who also handles civil negligence cases, such as car accidents, on a regular basis, so you can maximize your total recovery. It should be noted, every case is different and you should speak with an attorney about the facts relevant to your particular case to see how the law applies.
If you or someone you love has been injured a Boston work accident, call for a free and confidential appointment at (617) 777-7777.
Additional Resources:
Pickup Truck Plows Into Hollywood Restaurant; One Worker Injured , April 18, 2015, My Fox LA
More Blog Entries:
City of Danville v. Tate: Workers' Compensation Double Recovery, Jan. 25, 2015, Boston Workers' Compensation Lawyer Blog